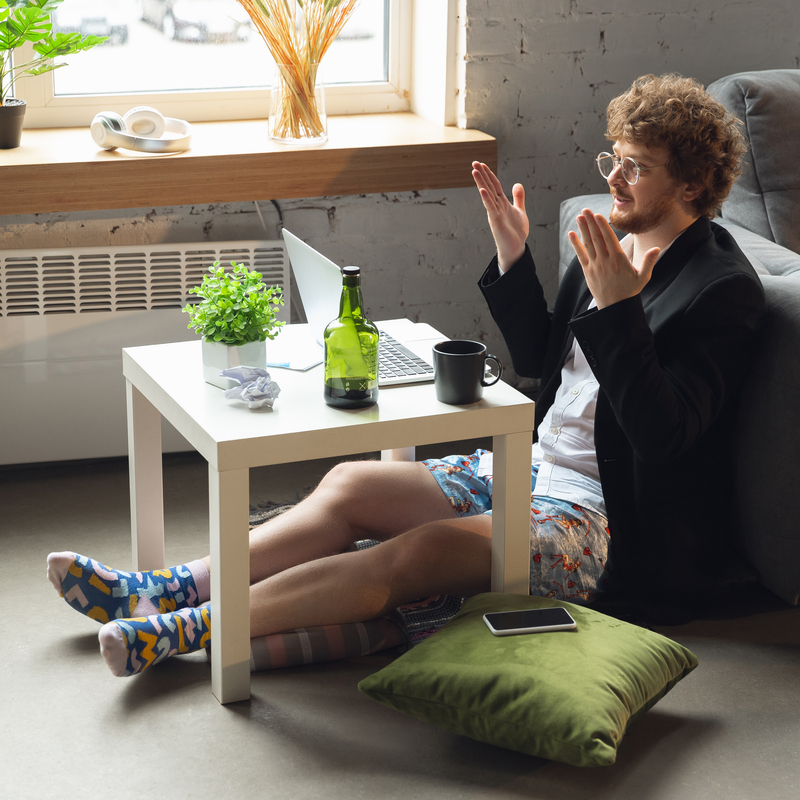 The Funniest Zoom Fails of 2020 – Working from Home Gone Wrong
Since the COVID-19 pandemic hit the US in early 2020, workers across the country switched from in-office work to remote employment. According to one report from Review 42, 88% of organizations worldwide made it mandatory or encouraged employees to work from home as the virus started to spread. That means businesses everywhere had to figure out—and quickly—how to communicate effectively while working from home. One way employees could see their coworkers and bosses face-to-face was through Zoom video conferencing. Because of video conferencing, internal collaboration, interviews, onboarding and more are now just as easily accessible online as they are in person. In fact, 43% of remote teams use a video conferencing solution while 78% of corporate companies use video calling software.
Love it or hate it, Zoom has changed the way we do business.
Since you already know the dos and don'ts of Zoom conferences (we covered it all the way back in August!), we wanted to keep things light as we head into 2021 and share a few of the top video conference fails from 2020. We've seen a few ourselves, and of course, who can forget some of these iconic viral moments from last year?
Potty Break
"Oh my God, Jennifer!"
Who can forget #PoorJennifer taking a quick bathroom break in the middle of her Zoom call… With the camera pointed toward herself! Early on in the pandemic, remote workers weren't quite used to the "turn camera off" button.
Poor Jennifer, she's not used to this new life yet. 😂 😂 😂 pic.twitter.com/rHqGtITNSz

— Mike Lasley (@mikelovesmiami) March 21, 2020
Danny DeVideo
Kids got in on the remote video conferencing, too, once schools across the country switched to virtual learning. This kiddo changed his Zoom background to the one and only Danny DeVito in the middle of his school lesson in April.
My son discovered the virtual background setting during his Zoom class meeting. I was in the other room and I heard his teacher say "who turned themselves into Danny DeVito?" I was like "oh no…" 😆#SomeGoodNews pic.twitter.com/Am0k1V0QrV

— Tracy S (@duckluckie) April 7, 2020
No Pants Dance
How many times did we see kids, spouses and roommates walk behind Zoom calls in 2020 without any pants? Too many to count. This particular video started this unfortunate trend!
Behind every successful woman is an unsuccessful man not wearing any pants:pic.twitter.com/GZsKPsXhub

— J.R.R. Jokin (@joshcarlosjosh) March 24, 2020
Maybe the most iconic Zoom fail of them all came in late March when one employee's boss turned herself into a potato at the beginning of the call and couldn't figure out how to turn the setting off. The best part? One of LMI360's very own employees did the same thing shortly after! We lovingly try not to talk about the blunder often, but it was one of the bright spots of 2020, giving us all a much-needed laugh during a long day of video calls.
my boss turned herself into a potato on our Microsoft teams meeting and can't figure out how to turn the setting off, so she was just stuck like this the entire meeting pic.twitter.com/uHLgJUOsXk

— Rachele Clegg (@PettyClegg) March 30, 2020
We learned a lot in 2020 – how to laugh off the mistakes, how to communicate effectively without being present in an office and how to mute our mics when we aren't talking (okay, we're all still working on that last one). As a whole, organizations and businesses have changed on a macro level in a way no one ever anticipated. And, on a micro-level, the LMI360 team has changed, too. While the team considered ourselves remote working pros (we've been in the game since 2010), we evolved in a way we weren't expecting: from producing virtual events to learning new ways of gauging success in the virtual world, our team has discovered new best practices that make us a more well-rounded marketing company as the world around us changes rapidly.