Websites
Your website is a valuable piece of your Digital Real Estate portfolio. Just like real property enhancements made to your site add tangible value to your properties. Modern websites reflect your company and provide the latest up to date information about your industry and your expertise. Depending on your size and marketplace and the pace of technological change most companies need a website makeover every 2-3 years. In addition, the most effective websites are not full of static information but instead are continually updated with new information and updates.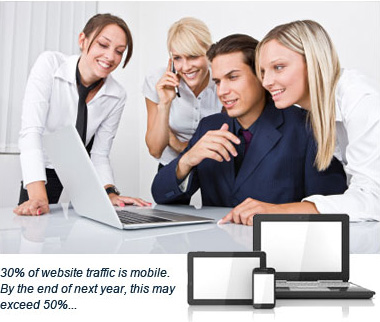 ---
Responsive Web Design
Responsive Web Design is a latest trend in website design. The shift to mobile is happening at an extraordinary speed. Today, 30% of traffic is mobile. By the end of next year, this may exceed 50%.For those of us who create websites and services, all this leads to a singular conclusion: A million screens have bloomed, and we need to build for all of them. In a nutshell, responsive web design is a creative technique to create one design for the website and it will automatically adapt itself and fit its contents on the screen size of all sorts of devices such as digital TVs, desktops, tablets, iPhones, and smartphones. Once a website is responsive, the navigational experience on the website will be much improved and more effective to all visitors and prospects.
SEO – Search Engine Optimization
SEO is one of the inbound components of Sales 2.0 How do prospects who are looking for your products and services go about finding you on the web. Over 75% of people searching the web never look beyond the first page result delivered by the search engine. What keywords do you want to bring up your company on the first page? Search engines deliver both organic and paid search results. There are pro's and con's to both and they each take a solid strategy that fits with the rest of your marketing budgeting and plans. LMI360 can design a new responsive website for your company or update your current site to get the search results you need.