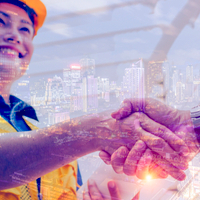 Are your services ready to stand out this budget season?
It may feel like the dog days of summer, but fall is right around the corner. And while it may feel early, it's that time of year when you need to be in front of your commercial facility, real estate and property management prospects to secure your place in next year's budget.
Organizations with traditional, calendar year budgeting cycles typically launch the number crunching merriment from July to November.
If you always do what you've always done, you'll always get what you've always got. ~Henry Ford
Are You Generating Quality Leads?
Are your marketing and lead generation resources generating the desired results? If not, maybe it's time for a little of that good old-fashioned marketing activity!
Henry Ford once famously said, "If you always do what you've always done, you'll always get what you've always got." If your customer lead generation efforts are not resulting in as much business as you might like, you might want to consider shaking things up a bit. After all, old ways won't help you open new doors.
3 Tips to Help You Stand Out This Budget Season
Below are three tips to help you talk to facility managers about next year's budget season.
Create a new service level or re-package your services to be more interesting, cost effective or beneficial to your prospects. This provides a reason to announce the changes and market them to the world.
Update your website and collateral to more effectively communicate your mission and value proposition. As you do the revisions, remember that customers care about how your company will benefit them. After all, this is your opportunity to show your value to them.
Expose commercial facility managers and property managers to your new service packaging, website or collateral. For instance, leverage blogs, utilize event marketing, and casually mention at networking events. Be sure to also utilize email marketing, inside sales and social media! Get the word out that things have changed and how property and facility managers would be doing their company a disservice not to take a few minutes to look at your company.
Old ways won't help you open new doors. ~Author Unknown
Our Team Specializes in Lead Generation.
You may feel that, "if it ain't broke, don't fix it." But are you sure your services will stand out this budget season? Contact us today and let's schedule a time to discuss how we can help your company grow.
We are always happy to help quality facility service companies make positive changes. Unlike other marketing agencies, LMI360 specializes in B2B marketing exclusively for leading commercial trade, service and technology providers for the built environment.