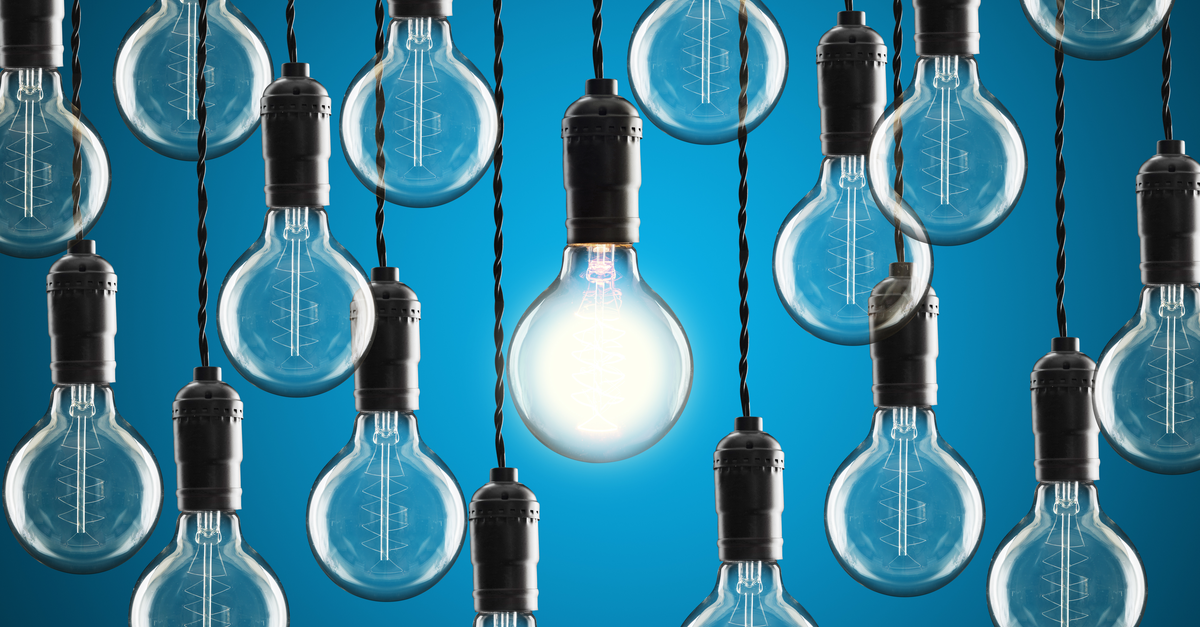 6 Emerging Trends in Leadership for 2022
How do you retain talent during a pandemic? The "great resignation" has negatively impacted organizations nationwide. COVID-19 caused a lot of stress for employees. Many organizations cut hours and team member count. Employees trying to function with smaller staff feel burnt out, taking on multiple workloads at once. Many companies went through massive organizational restructures. Many employees had their pay or benefits slashed. Companies that have survived have adjusted their approach to leadership to manage the change. 
To be an effective leader, you need leadership skills. The key is understanding which leadership skills are the most important and where we should focus.
We're breaking down six emerging leadership trends to help your business succeed in 2022.
Elevate your Soft Skills
Many corporate training programs emphasize hard skills development. Yet, leaders need to strike a balance between hard and soft skills for a business to thrive. Soft skills like communication, teamwork, decision-making, empowerment, and empathy boost a leader's emotional intelligence.
For example, National Soft Skills cites research conducted by Harvard University, the Carnegie Foundation, and Stanford Research Center showing that 75% of long-term job success comes down to people skills rather than technical knowledge. Furthermore, studies show that workers with soft skills training are 12% more productive than those without them and generate 256% ROI. When leaders focus on soft skills, it improves culture, agility, and transparency,
Build Trust and Boost Employee Engagement
Great leadership can only occur if your team trusts you. Brené Brown says, "It turns out that trust is in fact earned in the smallest of moments. It is earned not through heroic deeds, or even highly visible actions, but through paying attention, listening, and gestures of genuine care and connection."
In times of uncertainty, employees need to feel secure. They want to know they are safe and that their job is stable. Highly engaged employees are more likely to stay with the company.
For leaders to build that trust, they need to put in the effort. When you help employees understand your company's vision, it builds their confidence in your leadership. You can build trust by coming to employees directly to share the bad news. Make face-to-face interactions with employees to connect with them. When you ask employees for their ideas, it builds trust and shows them that you value their insights. Share details of your personal life. Trying one of these tactics can build trust in your leadership, and watch it boost employee engagement.
Engage Employees Through Company Vision
To keep your top employees, focus on strategies to help them understand what makes their work meaningful. Help employees to align with their company's values and mission. According to a 2016 Gallup report, How Millennials Want to Work and Live, only 40 percent of millennial employees felt strongly connected to their company's mission.
When you tie your vision statement to an employee's goal, they identify with it in a more personal way. Track team members' progress and celebrate successes as a team. Leadership should recognize employees making achievements that contribute to the overall vision. Then share employee success stories on your website or social media.
Connecting To Purpose Helps us Lead More Effectively
Employees want to feel a sense of purpose and fulfillment at their job. Leadership needs to meet this need or lose talent to businesses that do.
According to a McKinsey study nearly two-thirds of US-based employees we surveyed said that COVID-19 has caused them to reflect on their purpose in life. And nearly half said that they are reconsidering the kind of work they do because of the pandemic. Millennials were three times more likely than others to say that they were reevaluating work.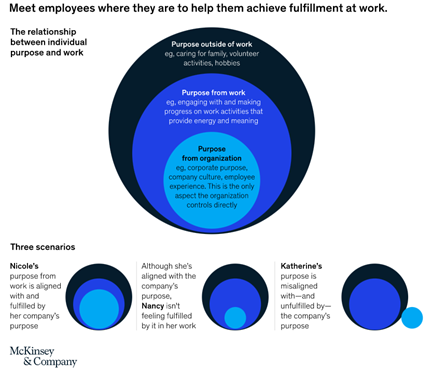 Plan for Future Leadership
Employee turnover and a growing number of retirees are cause for concern. If employees don't see growth or feel their work aligns with their talent or interests, they seek other employment. Make it an initiative to coach and train millennials for future leadership. Leaders should create pathways to progression and drive succession planning.
Create a Great Employee Experience
Today's leadership can't get by just offering benefits like paid time off and health insurance; they need to provide employees with an extraordinary experience in the workplace. When employees feel valued and happy, it increases engagement, motivation, or productivity.
Creating a great employee experience involves the culture, benefits, physical work environment, and tools you provide for employee success.
It all starts with the onboarding experience. Leaders should make new employees see themselves as part of the larger team. Invest in employee wellness. Tell employees that they made an impact. Understand what motivates and inspires their employees. Then deliver on it. Make a point to engage with at least one employee every day on this level. Listening is central to employee motivation and can make an underappreciated employee feel seen.
Flexible Work Practices Reduce Employee Turnover
Today 89% of employees want hybrid or remote work, flexibility, and work-life balance. Employees show a strong need for workplace flexibility, from balancing family life with work to boosting mental and physical health, skills, and peace of mind.
As Microsoft CEO Satya Nadella says in a recent Microsoft report, "employee expectations are changing, and we will need to define productivity much more broadly inclusive of collaboration, learning, and well-being to drive career advancement for every worker, including front-line and knowledge workers, as well as for new graduates and those who are in the workforce today. All this needs to be done with flexibility in when, where, and how people work."
In short, the leaders of today and tomorrow require a different set of skills than the leaders of yesterday. Rather than being experts in their specific field of work, they must also have strong leadership skills to manage their teams effectively.
All of us can be better leaders, and we can constantly improve these skills, so keep working on them and get the best out of yourself and your team.
What other leadership skills do you think are valuable for successful leadership? Contact us and let's talk about how to help your team reach their goals in 2022.