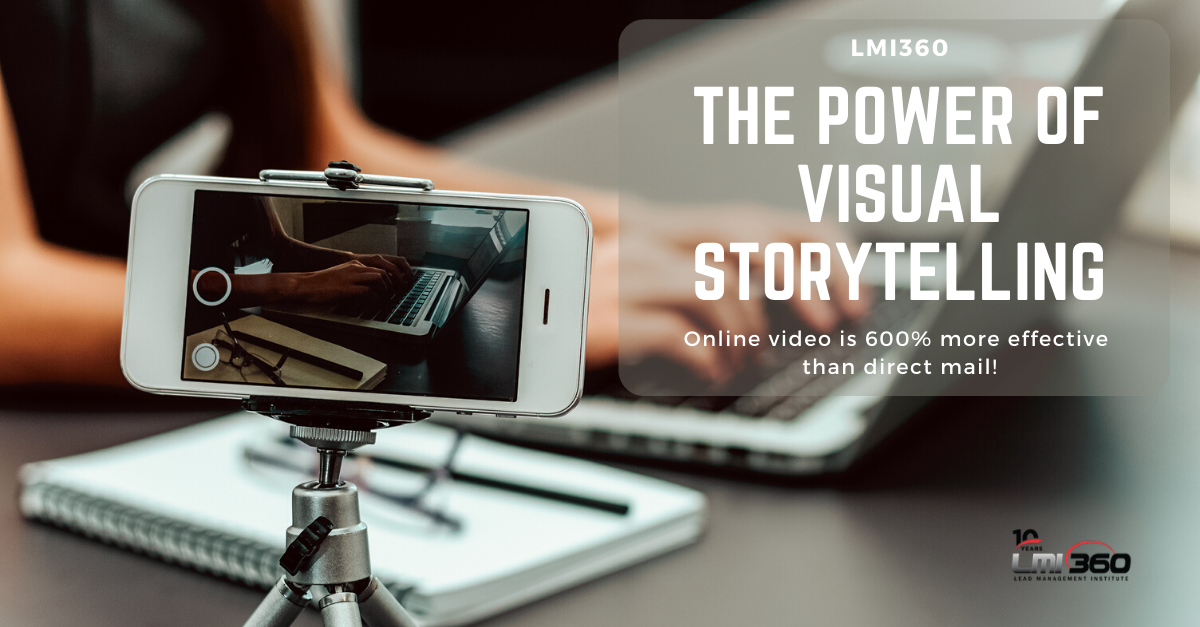 The Power of Video and Visual Storytelling
Peanut butter and jelly. Pen and page. Song and dance. Video and marketing. They might be different, but they all make the perfect pair.
If you want to increase your lead generation and social media engagement, start including video! Video marketing is easier and more affordable than ever with today's technology. Here are a few stats that speak to the power of video for visual storytelling:
Utilizing visual storytelling as a way to market your brand, product or services is an attractive medium that's both versatile and extremely shareable online. Engaging your target audience is the key to marketing, and video does so seamlessly. Plus, videos create more trust than a typical blog post – especially if a person is teaching on-camera. But, enough about the statistics. Let's talk about the power of visual storytelling through video.
Driving Connection Through Narrative
Storytelling, in any form, elicits emotion. It influences who we trust, plays on nostalgia and makes sense of complex information. A great story can effectively communicate your brand, product or services in just a few minutes. While TV commercials and movie trailers might not be new to you, video marketing for your brand might. Check out these storytelling tips to create powerful visual messages across your brand's marketing channels:
Create Stories with a Beginning, Middle & End: Scripting your video in writing first is a simple way to make sure your story has all three components and isn't short of any missing links. The medium might be different, but you're still telling a story!
Keep It Short & Snappy: Short stories can be just as compelling as a long one. Studies show that videos less than two minutes long get the most engagement from viewers.
Get Creative: Think about the message you want to convey. Are you recapping a blog post or promoting an upcoming webinar series? Get creative and surprise yourself with new ideas to visually convey that message – it'll surprise your audience, too.
Types of Marketing Videos & How to Effectively Use Them
Not only can you more effectively drive connection through visual storytelling, but you can also drive traffic to your website, generate leads, boost conversion rates and increase click-through rates. Deciphering between the different types of marketing video options allows you to brainstorm and create new ways to use them in your content strategy:
Demo/How-To Videos showcase your product
Brand Videos support your brand's vision, mission and values
Event Videos promote upcoming fundraisers, trade shows, etc.
Expert Interviews capture thought leaders in your industry and help build trust
Customer Testimonials show your prospects how your product can solve their problem
Personalized Messages continue the conversation for your prospects
Of course, using video online as part of your social media strategy is an effective way to reach your audience. But don't forget about using visual storytelling for website heroes, product rollouts, landing pages, emails and so much more.
Are You Ready for Video Marketing Implementation?
LMI360 specializes in creating blog video marketing that drives actionable leads. In some instances, video marketing can increase lead generation and quadruple organic traffic. Are you ready to implement videos into your marketing and social media strategy? While you don't need to abandon blogging or other efforts entirely, most experts agree that incorporating both formats into your content strategy is key. Let LMI360 help you create compelling, memorable video content that your audience wants. Contact us today for more information.