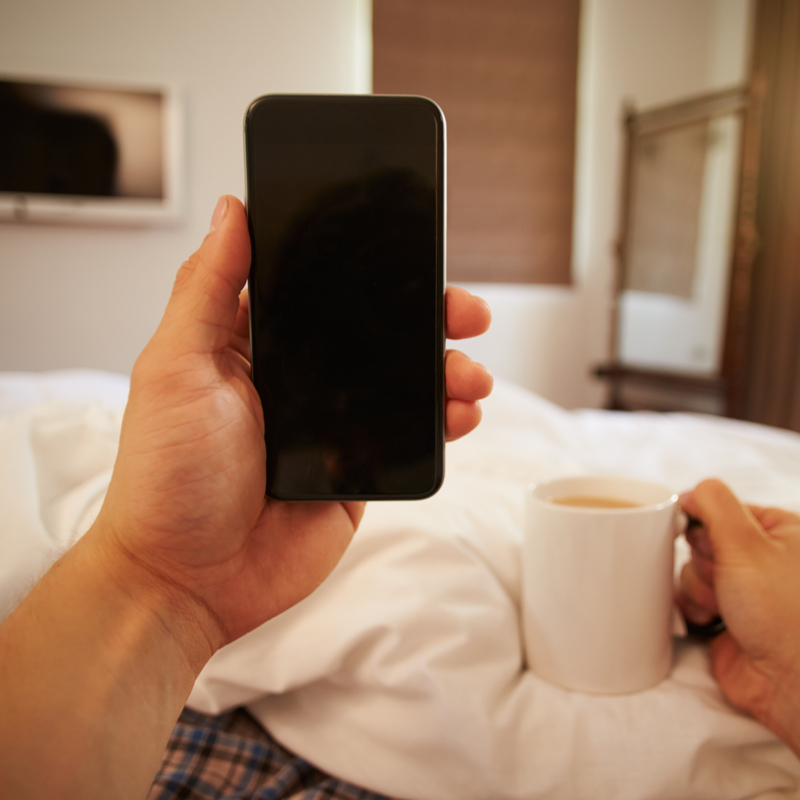 Changing the Blueprint: Rethinking Email Marketing for Mobile-First Users
Every morning, millions of Americans hit the snooze button on their alarm clock, grab their phone and scroll through emails, social media apps, text messages, and more before they even get out of bed. A new survey suggests that a whopping 43% of consumers check their phones within the first five minutes of waking up, while 17% of consumers check their phones immediately after waking up. We're officially living in a mobile-first world: users are experiencing online activities on their mobile devices before ever seeing it on their desktop, a paradigm shift that's less than a decade old.
This mobile-first paradigm shift is affecting the way marketing campaigns are formed and executed, especially so in the email marketing realm. Previously, desktops were the only way people viewed emails. In the last few years, the shift between desktop and mobile emails has changed dramatically. Nearly 47% of emails are opened on mobile devices and only 17% are opened up on a desktop. Because seemingly everyone has their phone within arm's reach – 91% to be exact – it's important to realize that a mobile-first email marketing approach can no longer be considered an afterthought. In order to stay relevant, you have to adopt a mobile-first marketing mentality.

How to Execute a Successful Email Marketing Campaign
Thinking mobile is an important aspect of any email marketing campaign – so important, that mobile-first marketing needs to be your driving force. Here are a few simple, but effective tips to make sure that your mobile-first emails will be open, clicked, and converted.
1. Build a mobile-ready email – Getting your emails optimized for mobile is the first step in creating a successful email marketing campaign. Most email marketing platforms now have mobile-ready email templates that are a quick and easy way to ensure your emails look great for both desktop and mobile users. If you design the template on your own, you'll need to make sure each of your emails is cut down to less than 550 pixels, has an increased font size for easier viewing, and contains larger buttons for the ability to click-through on mobile screens.
2. Write short subject lines + previews – Your subject line and preview are what the viewer sees before ever clicking on an email. Making sure this stands out in a unique way can help with your click-through rate. One of the most important aspects of the subject line is getting it down to the right length: mobile-first users can only see 30 characters, so make them count. And, don't forget about the email preview! The preview is an underestimated area of email marketing, but is arguably one of the most powerful tools to increase open rates.
3. Cut down on content with images – According to a recent study, the average reader spends only 51 seconds reading mobile newsletters. Lengthy, content-heavy emails usually produce poor click-through results because of the sheer amount of information your consumer is trying to read in such a short amount of time. The human brain processes visuals more quickly than text. By using infographics and other eye-catching images throughout your emails, your consumers can absorb information quickly and efficiently. Just make sure you're not cramming tiny text into an email that will be viewed on a tiny screen!
4. Link to mobile-ready websites – You've done all the work leading up to a successful mobile-first optimized email. You've written a catchy subject line and preview, and filled your email with relevant information and a call-to-action that your consumer clicks… Only to find that when they click through to your blog or product, the landing page isn't mobile-ready. The last piece to the mobile-first email marketing puzzle is making sure your landing page is responsive and optimized for mobile users. Google also penalizes websites that are not mobile-friendly, dropping SEO rankings and reducing traffic by up to 50%. Think of your website as an extension of your email, and the last important step to completing your mobile-first marketing campaign.
Mobile-First Marketing is Here to Stay
The use of mobile devices is growing rapidly every single day. In order to stay relevant in the email marketing world, you must take the extra time to create mobile-first campaigns that drive traffic, and results, for your business. Want to learn more about how mobile-first marketing can help your business grow? Contact us!