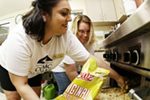 LMI360 proudly supports Season for Sharing
LMI360 is proud to renew our support Season for Sharing, the annual campaign of The Arizona Republic and azcentral.com, in partnership with the Gannett Foundation, the Nina Mason Pulliam Charitable Trust and the Arizona Community Foundation, raises awareness and dollars for non-profit 501(c)3 agencies that help the Valley's neediest.
We are so fortunate to have the kind of support Season for Sharing provides for our local communities. Donations are matched 50 cents on the dollar through the Gannett Foundation and 100% of all donations, plus the match, are distributed to local non-profit agencies that help at-risk children and families, improve educational skills, help domestic-violence victims and serve the elderly.
Last year alone, 159 agencies benefited from $2.4 million raised by the campaign. Still, families, elderly residents, foster children and others who are teetering on the brink of homelessness or hunger will always need our help. Ever dollar makes a difference. Check out some of the exceptional non-profit and community organizations who benefited last year.
As always, needs are great and resources are few. LMI360 is proud that we can help make an impact. For more information about Season for Sharing, visit www.sharing.azcentral.com/, or call 602-444-8661 to donate or 602-444-8202 for general questions.
May you be kind to one another and celebrate the spirit of the season,
The LMI360 Team