Success with the Internet of Things Requires More Than Chasing the Cool Factor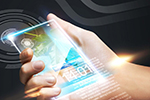 We've heard a lot of buzz about how Internet of Things (IoT) will be changing the future of business and technology. In 2017, Gartner is predicting that 8.4 billion "things" will be connected to the IoT worldwide; that's up 31% from 2016 with a nearly $2 trillion impact.
While many companies are eager to jump on the IoT bandwagon, there are a number of barriers that are preventing adaptation success – from security concerns, to the high cost of implementation, to an inadequate infrastructure. Author Maciej Kranz does a great job breaking down how changes in traditional business approaches are resulting in successful implementation – and monetization – of IoT solutions. (Kranz, Maciej. "Success with the Internet of Things Requires More Than Chasing the Cool Factor." HBR.org, 7 August 2017.)
Read below for an excerpt from Kranz's article, "Success with the Internet of Things Requires More Than Chasing the Cool Factor."
Many companies begin an internet of things (IoT) journey with great expectations, only to end up with disappointing business results. Gartner recently estimated that through 2018 "80% of IoT implementations will squander transformational opportunities" and fail to monetize IoT data. And a new survey by Cisco found that one-third of all completed IoT projects were not considered a success. In my experience with dozens of organizations implementing IoT solutions, those that achieved their expected ROI changed their traditional business approaches in one or more of the following ways:
They Update Their Talent Management Strategies
Yes, IoT requires new technical skills, ranging from data science and systems architecture to cybersecurity. Equally important, however, is the need for technology experts who possess both the business and the people skills to collaborate across groups inside and outside the enterprise's four walls.
The reason? IoT solutions tend to span information technology (IT), operational technology (OT), and core business functions. These groups must work together. Thus leading IoT adopters are increasingly bringing these functions together at an organizational level, creating new roles and hierarchies. Last year, BP-Akers, the Norwegian petroleum company, created a new executive position, SVP and chief improvement officer, to spearhead the alignment of its digital and IoT functions. In addition, several manufacturers have recently created a new frontline role, IT manufacturing engineer, with dotted-line reporting to both OT and IT.
Campofrio Food Group, a multinational meat processor, decided to transform its technology, culture, and business processes at its 17-year-old flagship factory in Burgos, Spain. When the Burgos factory burned to the ground two years ago, Campofrio rebuilt it as a connected factory. It blended IT and OT, upgrading the factory with IoT technologies that automate production while providing real-time data on materials, equipment, and, most important, workers. The company encouraged employees to change their one-job-for-life mentality and reinvent themselves, helping them acquire new skills and collaborate on all levels, including participating in decision making.
"We transformed from an old-fashioned hierarchy where everyone had a siloed job to a more interactive culture where everyone is urged to step up and help shape the direction of the business," Javier Alvarez, CIO of Campofrio, recently told me. "In exchange for retaining jobs in a new, state-of-the-art facility, we asked our employees to take advantage of training and refresh and stretch their talents. Within five years, we want to spread the core components of this technology and talent model to all our production facilities in Europe."
There are several strategies that can be used to develop IoT talent. First, train your employees in critical IoT skills — not just technology and processes but collaboration, too. Second, implement a culture of innovation across all grades, functions, and regions. Many companies, such as Cisco, regularly challenge employees to form teams to work together on solutions about which they're most passionate. Empower them, incentivize them, and encourage them to think and act like interdependent entrepreneurs at a startup.
Attracting the next generation of IoT talent will take more than money — it's just as important to nurture a team-based culture of diversity and openness in which every voice is valued. This not only appeals to younger workers but also aligns with IoT's network character. Putting up booths at university recruiting events and hosting job fairs will not be enough. Try sponsoring joint projects with universities through which students can experience your company firsthand. Or, like IBM and Cisco, partner with educational institutions to co-develop curricula and offer online IoT courses. Then go beyond that. Boeing, Northrup Grumman, and many other manufacturers run summer internship programs for high schoolers to entice them to return during and after college. The New Manufacturing Alliance, funded by member companies, helps fill the skills gap through educational partnerships with schools, offering scholarships and grants to students at technical schools. Milwaukee companies Rockwell Automation and ManpowerGroup recently announced a partnership to train 1,000 military veterans for advanced manufacturing. Amazon openly shares its Career Choice program with other companies, which trains entry-level workers, mostly in warehouses, for higher-paying careers.
Siemens, the German industrial giant, needed experts in mechatronics, a blend of mechanical and electronics engineering, in its North Carolina facility in the United States. Instead of going the traditional hiring route, Siemens established a four-year apprenticeship program with a local community college that offered both on-the-job training and a degree in mechatronics. This approach worked exceptionally well, providing Siemens with the talent it needed and prompting the company to expand the program to other schools and locations.
They Focus on the Business Challenge, Not the Technology
IoT technology is very cool. But chasing the cool factor can lead to compromised ROI. One U.S. city installed a state-of-the-art inflow and infiltration system in its manholes — a very cool solution that worked as designed. But the city didn't realize the promised benefits. Why? The new below-ground system wasn't integrated with existing processes above ground. Street sweepers continued to operate as they always had, clogging the inflow holes with leaves and dirt. Not so cool. But if IoT partners focus on the business challenge, they will capture new levels of ROI.
A few years ago, Harley-Davidson, the iconic American motorcycle company, had a big problem: Global competition was increasing and its core market was aging. The company needed to respond to changing customer desires more quickly, while also becoming more efficient operationally.
So, at one factory, Harley-Davidson assembled people from both IT and operations, created a unified team, integrated multiple systems into a single enterprise network, consolidated islands of data, and created a fully IoT-enabled plant. This allowed the company to shrink a fixed 21-day production schedule for new orders down to just six hours, reduce operating costs by $200 million, improve production efficiency, and reduce downtime. Plus, build-to-order cycle times sped up by a factor of 25, allowing the company to respond to customer desires far more quickly and efficiently.
Ultimately, this is the promise of IoT as the foundation for digital transformation: supercharging business to better serve customers and stakeholders. But to fully realize IoT's potential, companies need to approach it as a multifaceted journey, making changes to their business models and strategies — or risk ending their trip before it really begins.
Click here to read the full article.