How Connected is Too Connected?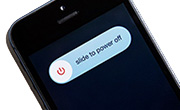 95% of Americans own a mobile phone of some kind. In today's digitally connected world, smartphones add unprecedented levels of convenience to both our personal and professional lives. It's easy to see why smartphones have quickly become so popular, but there may be some significant downsides to an employee-mindset of being always connected.
Studies from Michigan State University have shown that employees who check their smartphones for work-related reasons may find is difficult to disconnect from the office. It was shown that late-night smartphone use for work purposes interferes with sleep and leaves workers more depleted in the morning and less engaged at work the next day. Other studies have shown that employee smartphone use can lead to depression, finding that excessive use of smartphones may be linked to emotional instability.
A new French law attempting to improve work-life balance went into effect on January 1, 2017. The law limits emails and work contact after hours. Will it also limit employee productivity? The following article from Alison DeNisco, French Email Law Requiring Employees to Disconnect After Work Goes into Effect, was published January 3, 2017 online in the TechRepublic.
The new year brought a new French law into effect, allowing employees to ignore work emails after hours.
The law, dubbed the "right to disconnect," was introduced in May 2016, and was enacted on Sunday. Companies of more than 50 employees now must set up hours when workers are not supposed to send or respond to emails, normally during evenings and weekends.
It follows France's move to make all work weeks 35 hours, put in place in 2000 to encourage companies to hire more people. However, many industries
"On the one hand, change is hard, but on the other hand, for almost every other century, we didn't do this," said Mary LoVerde, a work-life balance expert. "We still made a lot of progress. I'm thrilled with this law because of all of the benefits that there will be for the employees and the businesses. We now know that burning people out has detriments that live on for both businesses and people."
The law speaks to the challenges technology poses for workers, said JP Gownder, a vice president and principal analyst with Forrester. "Always-connected, anytime access has severely eroded work-life balance for many classes of workers," Gownder said. "But the law itself might have unintended consequences, like larger companies locating jobs outside France, or making workers choose between the law and the quality of their work. It remains to be seen how it will play out."
Another question remains: How will this law impact IT professionals, who often work on-call after hours to address emergencies? LoVerde said companies will figure it out, and possibly have some employees work evenings and disconnect during the day.
A recent report from the London-based Future Work Centre called email a "double-edged sword" in terms of workplace productivity, in that it allows employees to communicate easily, but is also a source of stress and distraction. The researchers found that employees who leave their email on all day were much more likely to report feeling pressured, and that checking email early in the morning or late at night was associated with higher levels of pressure.
The negative impacts of poor work life-balance are well-documented: Overwork and the resulting stress can cause numerous health problems, including impaired sleep, depression, heaving drinking, diabetes, impaired memory, and heart disease. These conditions not only hurt the employee, but also the company, in terms of turnover and rising health insurance costs.
In tech, particularly in the startup arena, there can be intense pressure to produce, Cali Williams Yost, a flexible workplace strategist and author, told TechRepublic last year. "If left unchecked, that can turn into a 24/7 reality," she said. "But there is a growing recognition that perhaps that isn't ultimately the best approach, and that you can still be productive without driving your people into the ground."
What's your opinion?
What do you think of the new French law?