New Year's Resolutions for Your Business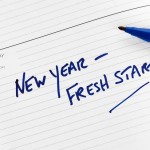 Something about the beginning of a New Year brings about a sense of renewal. Our New Year's resolutions help us start over, get organized and live healthier lives – this is true in both our personal and professional lives. As I was thinking about New Year's resolutions, I came across this great article, 4 New Year's Resolutions Your Small Business Should Keep This Year, written by Drew Hendricks, published in Forbes. While the article was published in January 2014, it offers a wealth of information and maintains its relevancy for business owners today.
Each January, Americans make a list of New Year's resolutions to help them live a better life throughout the year. Whether those resolutions are to lose weight or get out of debt, a new year provides the opportunity to begin with a clean slate. Since we all know that the first step toward realizing our goals is to set them, New Year's resolutions offer the perfect opportunity to put those goals in writing.
January is the perfect time to review your organization's goals and create new ones. Here are a few great New Year's resolutions that can help businesses in today's competitive environment.
Follow a Content Marketing Plan
As 2014 begins, content marketing is a more important part of the landscape than ever, driving search engine rankings and keeping customers interested. A recent survey found that 93 percent of marketers are using content marketing today—a number that increases each year. However, as interested as businesses are in this new frontier, many aren't sure where to start.
The first step toward ramping up your business's content marketing strategy this year is putting a plan in place. Print media professionals have long used editorial calendars to schedule content, but in recent years they've become popular with marketers. Today, editorial calendars are used to plot social media posts, blogs, articles, and website news updates. Often going under the name "content calendar," they can help a team plan a campaign around a big event. They can also be used to keep a team on track with its posting goals, serving as a regular reminder to keep a company's online presence active.
In addition to a content calendar, businesses might also choose to delegate some of the posting responsibilities by bringing more than one staff member on board. By opening up participation to your entire staff, you may find you have a few team members with hidden social networking or blogging talents. It also gives your business a diverse voice that keeps customers interested.
Utilize Apps That Make Life Easier
With hundreds of thousands of apps available to mobile device and PC owners, busy professionals can easily simplify their lives—often at no charge. Unfortunately, it's easy to get caught up in the overwhelming lists of apps under each category in app stores. Here are a few free apps that can help businesses automate some of the more time-consuming tasks.
If you've been putting off adding a few apps to your smartphone, a new year provides a great excuse to download them and try them out.
Show Customer Appreciation
One year is ending and another is beginning, giving businesses a reason to take stock of all they've accomplished. Most businesses would be nothing without the loyalty of customers or clients. Customer appreciation efforts should be part of any business's New Year's resolutions, reminding them to find a way to thank supporters.
One of the best ways to show appreciation is to offer loyal customers a freebie or discount. Some businesses do this through customer appreciation parties that kick off the new year. This can be promoted through your social media pages, also potentially leading to shares or retweets that bring in new customers.
But small businesses can gain an edge by personalizing these acknowledgments. When a known loyal customer enters the shop, associates can give a small token to that customer, along with a personalized thank you note. The customer will likely be so impressed, he or she will tell friends about the experience, which will hopefully result in additional loyal customers to thank next year.
Consider the Cloud
Cloud technology is taking over the marketplace, opening up possibilities for smaller businesses that can now compete on a much larger scale. Whether you choose to take advantage of cloud-hosted software offerings or offload your entire network infrastructure to the cloud, by investigating options, you may be able to save money while keeping up with the latest technology.
A new year means a fresh start for growing businesses. By reviewing past goals and strategies and adding new ones, businesses of all sizes can prepare to compete with much larger companies within the same industry. These four resolutions are important because they represent the spectrum of technologies businesses are embracing today."
While there are new apps available in today's market, the idea of using them to improve your business still holds true today. As part of your New Year's resolutions, create your content marketing plan and follow it to promote a great 2016. Happy New Year!