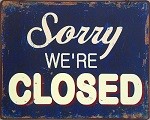 Recently, REI made a decision to close all of its stores on Black Friday, sparking a lot of talk on the internet. We think it is a brilliant gesture. The employees are happy, and they are getting a lot of free press. An article published in Fortune, by Hannah Elise Jones, outlines more details about REI's Black Friday Rebellion.
Unlike most, if not all, of America's major retailers, Recreational Equipment Inc. (REI), the outdoor retailer, will close all 143 of their stores on Black Friday, one of the busiest shopping day of the year. Adding to the media frenzy accompanying this announcement is the news that REI is paying employees to take the day off and explore the outdoors. Most organizations would declare this insanity. Retailers can't close their doors on such a crucial business day and expect things to go well for them — or can they?
For REI, closing on Black Friday is a choice that reflects something deeper than the bottom line. This decision shows a strong dedication to the personal lives of REI employees, as well as a commitment to its values and the mission it serves. It's no coincidence that REI is one of only 13 companies that have made the Fortune 100 Best Companies to Work For list every year since its inception in 1998. Companies on this list, which my organization Great Place to Work produces for Fortune, are characterized by strong trust-based relationships and values-based decision making. As such, REI is well-equipped to say no to Black Friday because they've had plenty of practice in choosing to uphold their company values when challenged by the norm.
The company's multi-media campaign, OptOutside, is currently turning Black Friday into a consumer-supported movement that encourages people to say no to long lines and frantic shopping, and yes to the great outdoors. Its viral hashtag #optoutside directs all photos posted with the tag to a webpage, where visitors can browse outdoor activities in their area and post pictures of their experiences.
However, the media has not all been positive in the wake of the Black Friday announcement, as critics raised issues regarding the pressures REI puts on employees to sell memberships. While incentives for selling may be missing the mark, as a cooperative, these memberships are key to REI's success. As of 2015, REI is the largest consumer co-op in the country and has roughly 5.5 million members. Each year these co-op members receive a dividend check equal to 10% of what they spent at REI the prior year, which allows REI to share profits with members. The co-op structure has been at the core of REIs business since the company opened its first Seattle store in 1938.
Many critics of the Black Friday announcement have claimed that is it this co-op structure that allows REI to close their doors, and therefore its decision won't have a significant impact over the retail industry. By not being accountable to shareholders, REI is able to make decisions with longer term impacts in mind. Closing this year may hurt profits in the short-term, but the cooperative structure allows them to think of the long-term impacts the decision could have on customer and employee loyalty.
The decisions REI has made recently to move their cooperative structure back to the forefront of their brand image, and to take actions in line with the values at the core of that cooperative, may indeed be facilitated by their freedom from shareholder demands, but it doesn't make them any less significant. Whatever missteps the organization has had, or what benefits they gain from their co-op model, REI is making values-based decisions for their brand and building trust with both employees and consumers in the process.
If you declare you value something, take actions that prove it. There is a distinct power in doing so, and, as REI has proven, the world will take notice.