De-Bunking Social Media Myths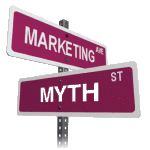 In today's ever-changing world of technology, it is important to stay informed on the effects of technology on the ways we market our businesses. There has been a lot of buzz about social media and many myths circulating about it. This great article, written by B.L Ochman, president of Whatsnextonline, and published by Bloomberg.com, outlines many of these popular myths and reveals some truths about social media.

1. Social media is cheap, if not free.Yes, many of the tools that can be employed in social media marketing are free to use. These include Google's (GOOG) video-sharing site YouTube, Yahoo's (YHOO) photo-sharing site Flickr, the social-network building tool Ning, and content aggregators such as Diggand eBay's (EBAY) StumbleUpon. Free blogging tools abound too; among them are WordPress,Twitter, and FriendFeed.
However, integrating these tools into a corporate marketing program requires skill, time, and money. The budget for an effective social media marketing campaign begins at $50,000 for two to three months. I'm sure companies have spent less, and I know they've spent more.
Building a site that incorporates interactivity, allows user-generated content, and perhaps also includes e-commerce doesn't come cheap from anyone who knows what they are doing. Even taking free software like WordPress and making it function as an effective interactive site, incorporating e-commerce, creating style sheets that integrate with the company's branding, takes more than time. That takes skill, experience, and money.
As a rule, a $50,000 to $100,000 budget can cover the creation of a simple multimedia microsite that becomes the center of an online community. Add in some widgets to help distribute the content and form a credible group on Flickr, Twitter, or Facebook and other networking groups to enhance the community aspect of the campaign. Complex functions add to programming and design costs.
A high-yield, highly targeted blog advertising campaign to kick off and support the program will cost an additional $25,000 to $100,000 a month. Advertising through Google's AdWords, e-mail support, co-registration, and other tools that drive traffic would be additional costs.

2. Anyone can do it. A surfeit of whiz kids and more experienced marketers are claiming to be social media experts and even social media gurus. Search the bios of Robert Scoble's 56,838 Twitter followers using Tweepsearch (www.tweepsearch.com), an index of the bios of Twitter users, and you'll find:
4,273 Internet marketers
1,652 social media marketers
513 social media consultants
272 social media strategists
180 social media experts
98 social media gurus
58 Internet marketing gurus
How many of them have actually created a successful campaign for clients using social media tools? I bet you'd be hard-pressed to find half a dozen with real track records.
A successful social media campaign integrates social media into the many elements of marketing, including advertising, digital, and PR. Opinion and theory are no match for experience, and the best social media marketers now have more than 10 years of experience incorporating interactivity, blogs, forums, user-generated content, and contests into online marketing.
Video contests by companies hoping for viral buzz and Google juice are as plentiful as mosquitoes on a humid summer night. But, like their insect counterparts, most video contests suck.
It's the rare video contest that gets as many as 2,000 entries. Many, like Denny's (DENM) recent disastrous effort, get fewer than 10 entries. Apparently, 48 Denny's breakfasts over four years wasn't a big motivator.

3. You can make a big splash in a short time. Sure, sometimes a social media campaign can produce substantial and measurable results quickly.
Social media is great if you're already a star, but that doesn't happen overnight. Amid the recent launch of my T-shirt design business, Pawfun.com, I have relied heavily on my 4,000-plus Twitter followers and 120,000 readers of my What's Next Blog, which I've updated as often as five times a day since 2003. Because that network already exists, with not one dollar spent on advertising, we were able to generate more traffic in our first three days than some major companies get after years online.
ZapposChief Executive Tony Hsieh, whose company has millions of customers who are evangelists for the great service that built the brand, quickly became a Twitter star, with more than 32,000 followers. When Dell (DELL), JetBlue Airways (JBLU), the Chicago Bulls, and other love-'em-or-hate-'em brands joined Twitter, they immediately developed huge followings.
Tweets can be used to drive traffic to articles, Web sites, contests, videos, and so on—if people already care about your brand, or if you have a truly original idea that people will want to share with their followers.
One recent example of a Twitter-generated success is Savvy Auntie, a community for aunts, godmothers, and "other women who love kids" that was launched six months ago by Melanie Notkin. She has counted on Twitter to drive traffic, help her find suppliers, products, and even investors. She developed a Twitter following before launching her business, then tapped into it for help when she launched.

4. You can do it all in-house. Wrong! You need strategy, contacts, tools, and experience—a combination not generally found in in-house teams, who often reinvent the wheel or use the wrong tools.
It is rare indeed to find an in-house team that can not only conceive and execute a social media campaign but also drive traffic to it with effective e-mail segmentation, search optimization, blogger outreach, blog advertising, Google ads, and more.

5. If you do something great, people will find it. Quite simply, that never was true. Until you can drive traffic to your social media effort, you've got a tree falling in the forest, heard only by those standing nearby. A great number of tools can drive traffic, including StumbleUpon, Digg, and Twitter, but nothing works better than word of mouse—one friend telling another, "Hey look at this!"

6. You can't measure social media marketing results.  You can use a variety of methods, including mentions on blogs and in media; comments on the content; real-time blog advertising results, and click-throughs to your company Web site. You can get very precise statistics from a variety of sites, including Google Trends, Twitter search, Google Analytics, BackType, and Compete.
The tools are there. The gurus who know how to use and interpret them—not so much.