Have You Googled Yourself Today?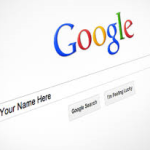 If you have Googled yourself (and, really, who hasn't?), did you like what you saw? Was it the YOU that you thought you were? Maybe not! Googling oneself (or ego-surfing) is the digital age's guilty pleasure, since we are all, to some extent, narcissists. "Googlers" want to know what others think and see about them. Yeah, most of us are like that!
Pew Research says that 57 percent of adult Internet users use search engines to find information about themselves. And they aren't alone. Employers, landlords, even possible dates may be checking you out on the web.
Google handles millions of vanity searches every day and users are not always thrilled with the results. Google's director of product management says, "One problem is, they don't have any control over the search results. Either they don't like the search results, or they're not listed on the first page. If your name is Brian Jones and you're not the deceased Rolling Stones guitarist, you don't exist."
Here are some tips in your vanity search:  when you Google yourself, make sure you are using a private browsing window. In Google Chrome, this is called an "incognito window." You can easily open one by clicking "File," and then "New Incognito Window." This allows you to see a more neutral search result not affected by your browsing history, logged-in services or other factors that search engines use to show you personalized search results. However, most search engines will automatically use the location of your IP address to provide local search results regardless of browser mode.
Don't fret! You CAN build an online identity that you DO like with a Google Profile, Twitter, LindedIn or Facebook. Start by filling out a Google profile page. Add a photo, your job history, contact information, if you want, and link to other profile pages you may have. These Google profile pages are useful because they rank highly in search engine results.
LinkedIn is a social network for business. On it, you can post your job history and connect to people in the same field or friends at other companies. It's a virtual permanent online resume.
Try to get your name as a domain name, like joesmith.com. With a common name, this might not be easy since it's probably already taken. But look for variations, like joesmith.net or joe-smith.com or JoeSmithConstruction.com. If you don't plan to wow the world with your own website, just make it a one-page site with your resume, curriculum vitae, and contact information. Should you not want to buy the domain name of, say, joesmith.com, there are free blogging services such as TypePad or WordPress. Consider also Google Me button from Vizibility. They will help you create a personalized Google search result. Put a button on your online profile page or in your email that brings up those results in a Web browser. It will also alert you when your search results change. And it's free!
Bottom line, the results you really care about are getting leads and customers. Simply ranking high in search results doesn't necessarily correlate to getting results. But seeing how frequently your business name appears in organic search results is a good indicator of what you need to work on when it comes to optimizing for your branded terms. When Googling yourself, you should find your business' website and any claimed social media or review pages like Facebook, Twitter, and Yelp. Your Google+ Local page should appear prominently in the main search result, along with photos and business information. So it is crucial that it be complete and accurate and that you update it regularly.
Googling your business name will not only show you the content you've created, but also content others have created about your business like reviews, complaints, comments, blog posts, images and more. Your online reputation gives you a good idea of the overall sentiment being shared publicly about your business online that consumers may come across when searching for your business. By immediately addressing any negative content like complaints or bad reviews, you can boost customer satisfaction, improve your business AND your reputation!
So Google away! (We know you're doing it anyway. . .)