Powerful Email Subject Lines
I recently re-read and interesting blog posted by Carrie Kuempel with VisibleGains tracking how presidential candidates backed by millions of dollars in consultants and technology are using email on behalf of their candidates. Carrie signed up to receive email from the Republican primary candidates and figured it would be interesting to see what subject line techniques they use to get people to open the emails.
The results were interesting showing a very informal approach to communications as summarized below.
◾simple language
◾one to three words max
◾mostly lowercase
◾written as you might to a friend
◾insider references
Below is a representative list of subject lines used by candidates: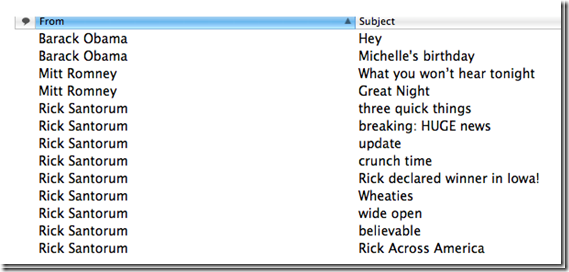 There is often a great temptation to write lengthy email subject lines explaining how much benefit the reader will get by opening and reading our content.
The curiosity factor of short, crisp and business casual titles seems to work significantly better.  Who wouldn't want to open an email with the subject line of Wheaties?