Differentiate your Website for Facility and Property Managers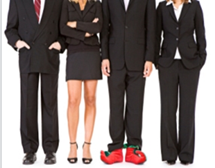 How long will users stay on a Web page before leaving? It's a perennial question, yet the answer has always been the same:
Not very long!
As users rush through Web pages, they often read only the headline text on the pages they actually visit (let alone all those they don't).
So, unless your writing is extraordinarily organized, targeted, clear and focused little of what you say on your website will be noticed or read. So if you are marketing to facility and property managers the first task of your website is to clearly identify that your site is provided for the benefit of facility and property managers.
So how can you make it easy for them to see at a glance that they have come to the right place and that what follows on your other pages is likely to be targeted at their needs?
You've come to the right place!
Utilize headlines and bold headings to mention the words Facility and Property Managers
Make sure that your primary images are of buildings, construction or other images that quickly let them visualize your market
Include logos of industry groups you might have in common with FM's & PM's like IFMA, BOMA, NAIOP, and others
After 10 seconds the odds of a visitor staying on and reading more go up exponentially.
How are you different!
Now that we have them interested we need to do even more differentiation.  Everyone says they provide the highest quality service at the best price.  Is that how you differentiate yourself?
The key question we want to answer is why should my company buy from you instead of your competitors or doing nothing at all?  What is your "Secret Sauce?"
Sometimes we need to start by analyzing our strengths. What things do we do better than our competitors?  Some ideas could include:
Quality of People
Training, Certifications, Licensing
Business Partnerships
Professionalism
Safety
Security
Communications
Reliability
Warranty
Integrity
Easy Access
Commitment to Service
LMI360 hosts an executive workshop called the Value Proposition Workshop. It is designed to facilitate your key staff to come up with your "Secret Sauce". Get your messaging right and market your services on the web to beat your competition.
For more insight and ideas on winning business with Facility and Property Managers, contact:  info@lmi360.com