CRM Enabled Websites: Turn your website into a Lead Generation Machine
Over the last decade Website Reality has evolved from the days when we wondered…
"Why should we invest money in a good website?"
to
"WE HAVE TO HAVE A BETTER WEBSITE TO BE MORE COMPETITIVE"
Over the years thousands of website companies have sprung up to design and build you a nice brochure website.
Their focus was and still is primarily for a one time content development of a nice brochure design and some basic keyword tagging and support for SEO (search engine optimization) so that the search engines might find you when those keywords were entered into a potential buyers search criteria. No matter how many technical SEO buzzwords they spew.
The challenge today is everyone's doing it and there is a traffic jam over your keywords.
You and all of your competitors now understand the value of being found on search engines and are chasing the same keywords. Everyone wants to come up on the first page of the search results.
LOCATION, LOCATION, LOCATION!
The top organic search on the first page gets a 36.4% Click Through Rate (CTR)
The second position on the first page gets 12% CTR
Down to the 10th position which gets a 2.2% CTR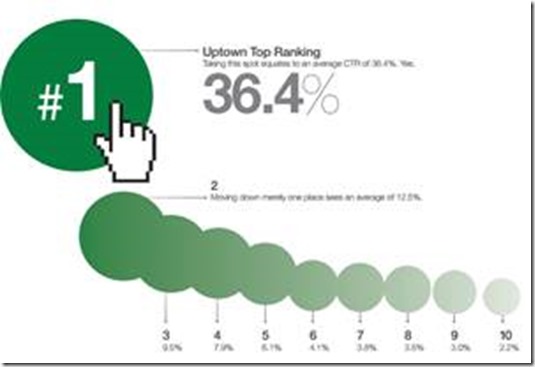 * Based on data from Optify
Imagine how little notice you will get if you are NOT ON the first page for the keyword search results that are competitively important to you.
How does a CRM enabled Website Help me?
A Customer Relationship Management system provides several powerful features that compliment your website and your ongoing journey to the top of the organic search listing.
In today's "online/wired" environment, it's really less about how you want to sell and more about how your customers want to buy. Engaging with people the way they want to be connected to is not only important it's what gets results. People buy when they are ready to buy and that means you need to be in their awareness stream when the time comes to make that decision.
The CRM system allows us to link our website, marketing campaigns, social media, inside sales and outside sales teams together in a way that was never possible before.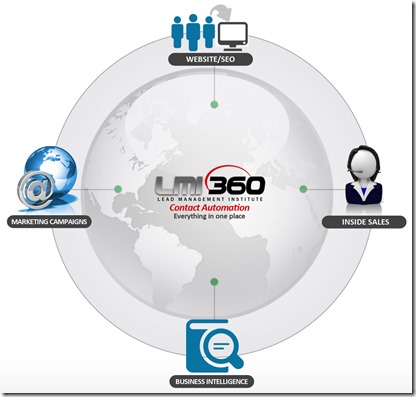 So how do I get on the first page?
Let's talk for a minute about SEO. Things have changed. There is no magic wonder dust or techno babble that will quickly move you to the top of an organic search.
Getting to the top position is an ongoing process.
Staying at the top requires that you continue investing in that ongoing process.
Here's what you need.
Ongoing attention to your keywords (the search words you want to own)
Regular and valuable website content updates that include those keywords
Links from related information sources to your website
Social interactions and conversations associated with your online presence
The formulas for these combined attributes are a closely guarded and an ever changing algorithm of the search engine services but each of the components is necessary.
There are 3 Media Networks that can get you to the first page
Owned & Operated Media – Your Websites, pages – main/micro
Earned Media – Online communities & watering holes
Paid Media – objectives for awareness & conversion
The first two can be addressed by your CRM enabled Website while the 3rd may be necessary in the mix depending on timing and competitive factors. We'll provide more detail on those in our next update.
The good news is that a CRM enabled Website is no more expensive than a brochure website to develop, it looks as good, has more functionality, and provides the foundation that will help you drive your company to the TOP of PAGE ONE search results, while providing better service to your prospects, customers and staff.

Would you like to grow faster and get more business?
Get the brand recognition and sales leads you need to grow your business with LMI360.    Our sales 2.0 process, CRM enabled Websites, and Marketing Campaigns will introduce your company to hundreds of new prospects in your target markets so that you are better known in the buying community and top of mind when they are ready to purchase.  Our team of marketing and sales professionals function as an extension of your team dedicated to increasing your business with a proven process for revenue growth.