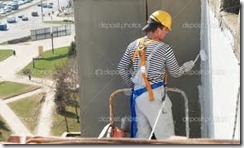 As we mentioned previously it's that time of year when you need to be in front of your Facility and Property management prospects for next year's budgeting process.
Organizations with traditional, calendar year budgeting cycles typically launch the number crunching merriment from July to November.
Maybe it's time for a little of that good old fashioned marketing activity!
In most people's world "same is good", and "change is bad"!
There's also an old saying that says "if you keep doing what you've been doing, you'll keep getting what you've been getting". If what you're getting is not as much as you might like you might want to consider shaking things up a bit.
Below are 3 ideas you might consider.
Create a new service package or re-packaging your services to be more interesting, cost effective or beneficial to your prospects. This provides a reason to announce the changes and market them to the world.
Update your website and collateral to more effectively communicate your mission and value proposition. As you do the re-make, remember that customers don't care about your company only about what your company does to benefit them.
Expose FM's & PM's to your new service packaging, website or collateral. Leverage modern technology, utilize event marketing, email marketing, inside sales, social media, and networking to get the word out that things have changed and they would be doing themselves dis-service not to take a few minutes to look at your company.
When the market is growing slowly the best way for you to grow is to take market share from weaker competitors. Hopefully, they all have the same attitude that "change is bad" and "same is good"!
We are always happy to help quality companies make positive changes. Stay the same and risk that your competitors announce a new service and you have to play catch up. Good luck out there!