Monitor the Web for Key Business Intelligence

Would you like to subscribe to a free service that automatically cruises the web searching for keywords that are relevant to your business, your competitors and your customers? It turns out to be relatively easy and FREE!
Google alerts, http://www.google.com/alerts , offered by Google, automatically notifies users when new content from news, web, blogs, video and/or discussion groups matches a set of search terms selected by the user and stored by the Google Alerts service.
Notifications can be sent by email, as a web feed or displayed on the users iGoogle page.
Google Alerts only provides content from Google's own search engine.
Users determine the frequency of checks for new results. Three options are available: "once a day", "once a week", or "as it happens". These options set the maximum frequency of alerts and do not necessarily control how often they will receive alerts. Alerts are sent only if new content matches the user-selected search terms.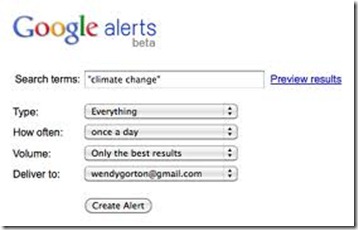 The first option, for example, means they will receive at most one alert email per day. The "as it happens" option can result in many alert emails per day, depending on the search.
Google also made alerts available as RSS feeds. Contact LMI360 to learn more about how to put Google Alerts to work for your business.