3 Secrets to Writing a Great Blog targeting Facility and Property Managers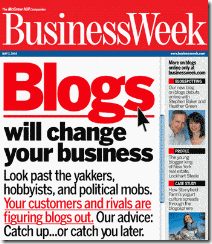 Is it a surprise that you should be blogging for your company these days? As this business week headline proposes Blogs will change your business.
So if you buy that, and assuming you've made the growth curve to understand the many values of writing a blog for your business, and also assuming you've already written the 3 blogs that immediately sprung to mind to write, how do you continue to find good blog material day in and day out?
Secret #1: Put yourself in your prospects shoes. What would a facility or property manager want to know about my business? What should they know that they might not know? What types of related information about the marketplace, the economy, even the weather and many other things would be of value to them. Some of the idea sources we use are shown below.
Look at related group discussions on LinkedIn and related associations and trade magazines
Google Search your industry and your services to find out what others in your industry are talking about
Use quotes from Business Journals, Magazines and Industry Journals
Follow discussions and presentations of Industry Leaders
Secret #2: Set an engaging title and makes your points briefly. Blogs are generally a few paragraphs with links to deeper information to those that are especially curious or knowledgeable. Make the most of your few paragraphs with attention getting pictures, bullet points and highlighted information. Most importantly spend a few minutes playing with title ideas that will capture reader interest.
Secret #3: Make it valuable to the reader. You don't have to invent the information. Quite often there is great value in consolidating information or bringing disparate facts together to be considered as a whole. However you do it, make sure that you are creating a valuable and interesting information feed so that people will subscribe to your ongoing content.
At LMI360 we write dozens of blogs each month for both our clients and ourselves. We try to make a long list of possible blog topics and then begin to sort them by interest and viability. If you are ready to blog and would like a hand please contact us for more free information.