7 Secrets to Maximizing your Trade Show Success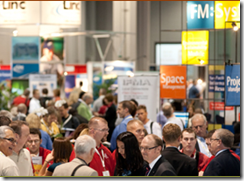 A trade show can be a large marketing investment for companies and it is often difficult to gauge specifically what we got for that large marketing spend. In addition, there are countless hours of preparation, setup, tear-down, staff flights, hotels and meals.
A typical investment example is shown below:
10 x 10 Booth – $10,000
Booth Furnishings – $5,000
Booth Graphics & Technology – $5,000
T&E – $10,000
Shipping – $2,000
Total: $32,000
Considering how much we spend to attend the show it's surprising how little thought goes into maximizing our success and return on marketing dollars spent. There are two primary reasons that we attend shows. One is brand recognition and the other is sales.
A show is a terrific "impending event" and can provide a sense of urgency to purchase plus the excitement of new products and services to generate new leads for the company.
In our experience most companies pay their money to attend and then HOPE that prospects will stop by the booth and eventually purchase something.
At LMI360 our experience has been that this approach has very limited success and most shows do not produce the number new opportunities to justify the large expense of the show.
To insure that the money you invest in the show provides the maximum number of new sales opportunities LMI360 developed a program based around 7 steps to help you get the most leads and sales opportunities from a show.
Pre-show target account list development. Determine in advance the target prospects and current customers we want to engage for new business opportunities. Develop an email/phone database to be used for both pre and post show lead generation.
Pre-show email marketing campaign. This campaign should include several emails to our target list focused on building excitement for the event and encourage prospects to stop by the booth or other special events.
Pre-show phone calls. Call prospects and customers to follow up on the emails and see if it would be possible to set a specific time for them to stop by the booth to meet you or a key executive.
Merge new leads from show with pre-show target account list.
Post-show follow up email campaigns. Create an information package for the following:

New leads from the show
Target accounts that said they would attend but didn't
All other target accounts

Post-show follow up phone calls and appointment setting.
Monthly nurturing email campaign to entire list.
These 7 secrets will net you big payback from your large show investment. They require as much planning and implementation as all the details in putting a show together in the first place.
LMI360 can help you pull it together. Let our outsource marketing and inside sales team cast the net for your next show. We'll make sure you get some immediate new opportunities and also stay in contact with your prospects for future opportunities.