LMI360 Welcomes CRENAB to Orange County
Over the years LMI360 has enjoyed our monthly CRENAB (Commercial Real Estate and Beer) networking meetings at some great Phoenix venues. This group knows how to party and likes to do deals.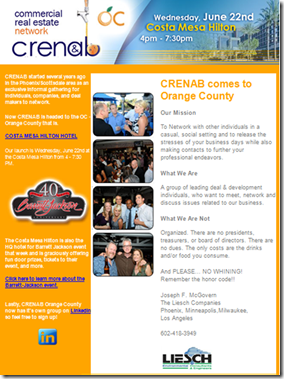 We are pleased to provide our marketing services to the group as they expand the concept to CRENAB Orange County.
If you are a commercial business or service provider that works with real estate, construction, general contractors, facilities managers, property managers, finance managers and the like you will find the people that make the deals at these meetings.
We often meet up with our counterparts from IFMA, BOMA, USGBC, and others at these events. In Phoenix attendance varies from 100-300 people each month.
We expect similar results in Orange County as people start to find out about the value this group brings. The Orange County Kick-off meeting is:
Wednesday, June 22, 2011
4:00 – 7:30pm.
As the CRENAB founders like to say "there are no guest speakers, no officers, no dues and no whining!" We have started a CRENAB OC LinkedIn group which we invite you to join. Come and network with your piers.
Special thanks to Joe McGovern at Liesch Environmental Consultants for his passionate work in setting up the venues and keeping it going. We look forward to meeting you!