Writing Blogs like Stacking Ammo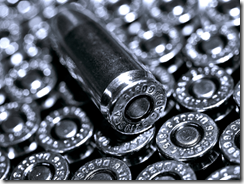 In order to position your company as a formidable resource in your marketplace you may need some ammunition. Writing content like a blog provides bullets that showcase your subject matter expertise and provide the basic ammunition required for web based marketing activities.
It may take a lot of bullets to win a war but as it turns out you are lucky enough to have a bullet creation factory. By writing a blog every day or two for several months you begin to have a nice stash of content that can be utilized and purposed in many different ways. Some of the content can be added to your website, some sent can be sent out as email while other pieces can be expanded into downloadable informative documents or PDF's.
These days almost everyone who purchases products and services does research on the web before deciding which companies they want to contact for sales discussions. Your blog can provide prospects with;
Education
Trust and Credibility
A reason to communicate with your company
It can also be used for many other types of web marketing which we will discuss further in future posts.
Our Lead Generation thought for the day…
Don't wait until time for battle before you start manufacturing bullets.